What We Do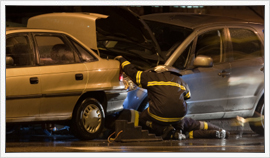 Brian limits his practice exclusively to personal injury cases, allowing him to provide focused attention, experience, and understanding to your case. Unlike a more diverse practice, his devoted injury law practice is able to ensure thorough and zealous representation of your injury claim. Handling injuries and accidents since 1994, his main concern is your ultimate satisfaction in the resolution of a difficult situation.
Insurance companies never have your best interests in mind. Despite your injuries, they are focused only on settling cases for the least amount of money possible. Trying to handle your case on your own puts you at a significant disadvantage. Having an experienced lawyer by your side is crucial to leveling the playing field against experienced insurance company representatives.
The Process
How does Brian work? He works on a contingency fee basis. This means he won't get paid unless he recovers money for you. When he takes on your case, Brian fronts all expenses; he pays for the costs of obtaining medical records, depositions, expert witness fees, and more. If Brian is unsuccessful in recovering compensation for your case, you owe him nothing. Also, initial consultations are always free so there are no fees to meet with Brian to discuss a potential case.
Brian Vicente is your experienced, compassionate attorney ready to guide you through the complicated process of an injury claim. He is always fully involved in each and every case, from beginning to end, doing everything possible to obtain the maximum financial recovery in the shortest possible amount of time.